The Guardians Recipe Search
[Update]: The search took too much maintenance to keep it going and unfortunately I retired the website :(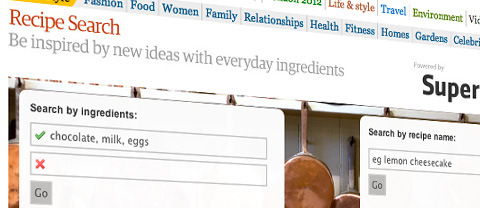 The Guardians recipe search is powered by a website I built whilst I was studying at Uni in Liverpool.
It was part of a website called WhatCouldICook.com which was my final year dissertation. I got a measly score for my project and ended up with a 2:1, but I ended up working pretty much full-time at the Guardian newspaper (as a freelance developer) at the end of it.
So all's well that ends well.
The search is built off Lucene Solr and took me about 6 months to build (rewriting it at least 3 times and tweaking it hundreds more), but in the end I really learned a huge amount from the experience and I wouldn't want to have started my career off in any other way.
I had bigger plans for the recipe search but circumstances out of my control always hampered the project.